PATS is a Passenger Assistant Training Scheme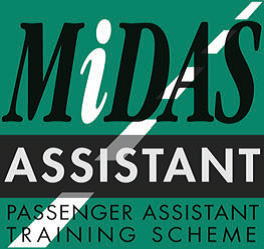 This is for anyone who has care or supervision of passengers travelling by road. This could be in cars, taxis, minicabs or large buses.
It is relevant for both volunteers and paid members of staff
PATS cover legal, practical and safety issues
Improves passenger safety by providing the skills and information for passenger assistants to understand and meet the needs of their passengers
PATS has five different modules, an induction module undertaken by all followed by modules for assisting passengers with disabilities (but not wheelchair users), assisting wheelchair users, assisting children and young people and assisting older people. Undertaking each module depends on the needs of the people you work with.
Like MIDAS training, PATS includes refresher training, however this is only compulsory for trainers.
More information on each module can be found here: http://www.ctauk.org/UserFiles/Documents/GM4764%20Pats%20Leaflet%20for%20download%20combined.pdf