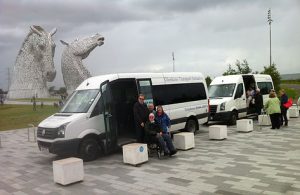 Community Transport services are important in connecting older and disabled people with others and allows them to access basic and essential services.
The CT services are designed particularly to address the needs of those who experience barriers in using public transport by reason of disablement, poverty, social or economic circumstances – those who have no other form or access to transport.
What's so special about Community Transport?
Community Transport provides safe, accessible and affordable transport solutions for local communities.
This allows them to:
Live independently

Participate in their communities

Access education, employment, health and other essential services
CT uses and adapts conventional vehicles to do exceptional things – always for a social purpose and community benefit, but never for a personal profit.
CT is first and foremost about people and their needs.
Underlying Principles of Community Transport
Community Transport Operators (CTO's) have a number of qualities which make them different from other transport operators.
CTO's are Social Enterprises.

CTO's are community-owned and managed by voluntary committees.

Services are developed and delivered by the community for the community.

In Dumfries and Galloway the drivers are made up of volunteers and paid members of staff.

CTO's are not-for-profit and any financial gain is put back into operating the services.
The impact of Community Transport
Community Transport in Dumfries and Galloway has the potential to make a huge impact to the lives of those who need it.
CT can address the growing number of transport needs and contribute to areas of D&G where access and inclusion is a challenge.
The impacts on the health and wellbeing of individuals as a result of being able to access transport are felt thoroughly by some of the most disadvantaged in D&G.
CT helps to tackle loneliness and isolation. It helps older people remain active and connected to their neighborhoods here in D&G.
CT has the impact to combat loneliness and isolation by providing access to social opportunities, opportunities to leave the house and an opportunity to socialise with other passengers and the driver.
Other impacts of CT include:
Transport services for people with disabilities or who find it impossible to use conventional passenger transport.

Transport services for individuals and groups who may be characterised as socially deprived – those with low income, without cars – which may exclude them from developing their skills or the job market.
Transport services for individuals and groups who are not well served by other transport networks – those living or travelling to rural areas around D&G and those who need access to remote parts of the region.